About Marjorie M. Liu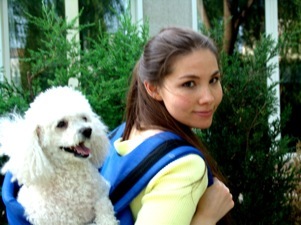 I was born around Philadelphia, spent my formative years in Seattle, and now reside in the Midwest. I went to Lawrence University in Appleton, Wisconsin, for my undergraduate studies, majoring in East Asian Languages and Cultures, with a minor in Biomedical Ethics. I then attended law school at the University of Wisconsin, graduated in May 2003, and was admitted to the bar a couple weeks after. I loved law school. Did not like being a lawyer. Which is why I decided to become a writer.
I've studied and traveled extensively through Asia, and spent some time working at the US Embassy in Beijing. I love to read, I love to write, but what I love best of all is proving to myself that dreams do come true.
Oh, and I like poodles. And cats.
Contact & Media Information
My agent is Abigail Koons of the The Park Literary Group. Please contact her with any business-related questions, including blurb requests.
For publicity inquiries, including requests for interviews and speaking engagements, please contact Elena Stokes of Wunderkind PR, at .(JavaScript must be enabled to view this email address)
Click here for media bio, official photographs and selected interviews.
Professional Awards
2008 Nominee Romantic Times Reviewers' Choice Award, Best Shapeshifter Romance, THE LAST TWILIGHT
2008 Nominee Romantic Times Reviewers' Choice Award, Best Urban Fantasy, THE IRON HUNT
2006 DOUBLE RITA NOMINEE for SHADOW TOUCH and EYE OF HEAVEN
2006 Nominee for the Kiss of Death Daphne du Maurier Award, SHADOW TOUCH
2006 Nominee for the PRISM award, A DREAM OF STONE AND SHADOW
2005 PEARL Award, Best Futuristic, A TASTE OF CRIMSON
2005 PEARL Award, Best New Author
2005 RITA NOMINEE for A TASTE OF CRIMSON
2005 Romantic Times Reviewers' Choice Award, Best Contemporary Paranormal Romance, TIGER EYE