Comics
Astonishing X-Men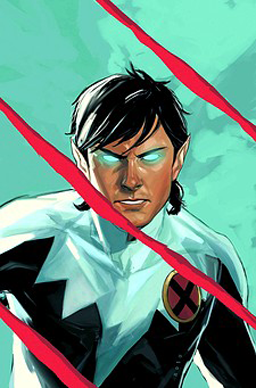 Astonishing X-Men #59
Back from their honeymoon, Northstar and Kyle face a threat at home while Northstar faces another threat all on his own! And deep in space, something is coming that might literally tear the team apart!
Astonishing X-Men #58
Warbird is on the run, labeled an enemy of Earth as well as of the Shi'ar! The X-Men must choose whether to help her or bring her in. What's the secret of the alien artifact she's uncovered?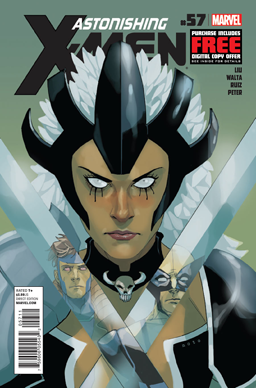 Astonishing X-Men #57
Warbird takes Manhattan! What secret is she hiding, and will it endanger the team?
Astonishing X-Men #56
The shocking conclusion to WEAPONIZED! A teammate returns…but is he friend or foe? Will Kyle and Northstar survive their first married mission?
Astonishing X-Men #55
Hatchitech weapons start showing up around the globe, and civilians are caught in the crossfire. The team must make a decision…take down Hatchi or save Karma!
Astonishing X-Men #54
Susan Hatchi reveals her connection to the X-Men, and why she's so intent on their destruction. How long can the X-Men survive in her prison, even without the nanobombs circulating through their bloodstream?
Astonishing X-Men #53
After the explosive ending of the last issue, the team is on the run! And Northstar accepts a deadly assignment…what is life like for the one who gets left behind?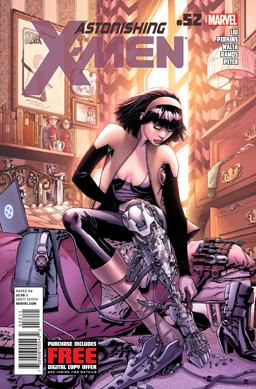 Astonishing X-Men #52
The explosive aftermath to the year's most talked about event!
Astonishing X-Men #51
Marvel is pleased to present your first look at the hotly anticipated wedding of the year in Astonishing X-Men #51! From New York Times best-sellers Marjorie Liu and Mike Perkins, Astonishing X-Men #51 features a who's who of the Marvel Universe including some guests that may surprise you! Not only does this unforgettable issue feature covers by Dustin Weaver and Marko Djurdjevic, along with a special "Create Your Own Wedding" blank variant cover by Phil Noto, but select comic book retailers nationwide will host wedding parties at their stores to celebrate this joyous occasion! It's the story that has everyone talking, and this June – witness Northstar and Kyle tie the knot, in Astonishing X-Men #51!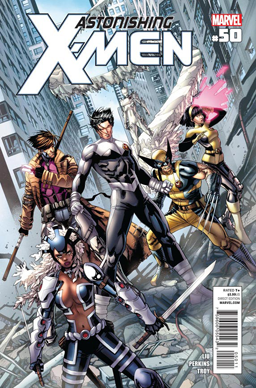 Astonishing X-Men #50
Astonishing X-Men #49
The Marauders Are Back! Something From Northstar's Past Has Resurfaced And Is Looking For Revenge. Kyle Goes Missing – How Is He Connected To The Person Behind Everything?
Astonishing X-Men #48
The X-Men return to New York City, but it's not a social call. Don't miss the first chapter of what will be the most controversial story of 2012!