As I've stated in the past, I have trouble talking about the books I enjoy most—because there's always that intangible quality of delight that a good book will give you that is impossible to put into words. Still, let me just say that the mark of a good book is how it sticks with you. I had the fortune of reading Rob Thurman's TRICK OF THE LIGHT many months ago, and let me tell you now—it sticks, deliciously. But then, all of Robyn's work is like that. She never disappoints, she frequently takes you off guard (in the best possible holy-crap-did-that-just-happen way), and her characters are phenomenal.
And, while I would never go so far as to spoil the ending of a book on my blog, I'd like to say, for the record: WOW.
TRICK OF THE LIGHT hits shelves on September 1st, and Robyn is very kindly giving away FIVE copies. Leave your name if you'd like to be entered—and ask questions, too! Robyn will be around to discuss her books in the comments, and answer anything you might be curious about. We'll draw winners on Wednesday night.
Now, on to the interview.*
*UPDATED TO ADD: A link to an excerpt from A TRICK OF THE LIGHT.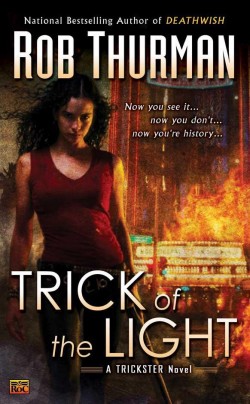 Tell readers about TRICK OF THE LIGHT.
TRICK OF THE LIGHT was my first female protagonist, although I am a woman…Rob is short for Robyn, so I was a bit nervous that I'd get fanmail from people who missed my picture on the back of the book and they would say 'A man shouldn't write a first person point of view. You need a vagina, damn it!' But the ending that came to me for the book was so made for a female protagonist (and when the endings came to me first and I have no idea how to get there from the beginning, those are always my best books) that I had to use a female character instead of my usual male. I like to think the ending has that Sixth Sense kick-you-in-the-ass, boom-how'd-I-fall-out-of-my chair feel to it. But don't read it first…it'll ruin the book for you.
Trixa is searching for the demon who killed her brother, but with so many demons about (thicker than lies from a car salesman's mouth), she needs a hand. There are two demon hunters, Griffin and Zeke, who work for Heaven's presence in Las Vegas, Eden House, who she's taken under her wing…an old friend who could be more if Trixa let him…a demon who straddles the line between Good and Evil-or so he says, and, finally, one utterly unrepentant demon who thinks Born to Be Bad is the only way to live (and he is very, very bad in the most entertaining of ways.)
I love all the characters in this book, but I must confess to having a very soft (like, melted chocolate soft) spot for Griffin and Zeke. Can you talk more about them, and their relationship with Trixa?
Ah, I have to say that they are my favorites as well. Zeke and Griffin show that while co-dependency in the real world is not a good thing, in the land of urban fantasy, it is the *best* thing. As all partners are in Eden House, one is a telepath and one is an empath–which makes angst and an unbreakable bond a near given (at least the way I write it.) And Zeke does need a partner in which he has unshakable faith. Zeke doesn't quite 'get' the world and the world, in turn, doesn't quite 'get' Zeke. Griffin keeps Zeke safe from himself, because once he does get going, that red head can do some very serious damage–sometimes intentional and sometimes not. Griffin has lost quite a few cars to Zeke's black and white outlook on life (and isn't running several red lights until you finally hit a bus full of wobbly thighed German tourists merely incidental to catching a demon? Even a small and puny demon?…Zeke certainly thinks so.)
Do you have a long-term plan or goal for this particular universe? What happens next?
Well, the ending of Trick of the Light is so…think Sixth Sense while gargling with pop rocks, that I know that ending will never be topped in the series. However, the consequences of the ending lead to some frustrating challenges for Trixa and Leo (and you, Marjorie, know precisely why that is ) That makes their long term goal at this point staying alive while still doing their job…or rather their calling. And staying alive in the next book after Trick of the Light will be a helluva trick in itself.
What other projects are you working on that you would like to tell readers about? I want some more of the Cal Leandros series!
Roadkill…The Cal Leandros Novel 5 will be out, as always, next March. As Deathwish was angsty to the extreme, the guys get a bit of a break…*road trip*…and you find out what ever happened to Rafferty and Catcher from Nightlife, Novel 1 (people keep asking), Goodfellow ponders monogamy, and Salome the mummy cat actually ends up with a higher body count than anyone else. Naturally Cal gets into trouble…is it possible for Cal to not get into some sort of trouble? Niko…Niko wins a Nobel Peace Prize for putting up with it all—or he should. While it is lighter than Deathwish, angst, of course, still abounds. Death incarnate in the form of a healer-gone-bad walks the earth and all in his shadow fall to never rise again.
Chimera, a solo novel, will be out June 2010. It is the book that nearly broke my heart at the thought of it not being published (it's six years old.) It is redemption, bonding, and hope where hope could…should never exist. But it is similar to my other series, so lovers of Cal and crew will not be lost. In fact, they'll get to see a different point of view in the brotherly bonding area and that human monsters can be far more horrific and twisted than your average vampire/werewolf/revenant/boggle. You name it.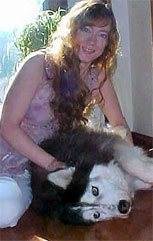 Tell readers about yourself—and your love of Seth Green and the Phoenix!
Ah, Seth. We're both 5'2" or so, both have red hair (on occasion), and both have scorching sarcasm. How are we not meant to be? And I paneled with Amber Benson/Tara…that's one degree of separation from Seth Green. Someday, Seth. Someday. I've missed him three times at Comic Con, but caught up to him skating at a Robot Chicken fest in Indianapolis–which is my new mental happy place. As for Dark Phoenix…Herein lies the story (work friendly): http://robgoodfella.livejournal.com/tag/hustler/dark+phoenix
And here are the pictures (work friendly): http://robgoodfella.livejournal.com/tag/dark+phoenix
Thanks for being here, Robyn! And for all of you, here's the full list of her work:
The Cal Leandros Novels: Nightlife, Moonshine, Madhouse, Deathwish, Roadkill (March 2010)
The Trickster Novels: Trick of the Light (September 1st, 2009), Trick of the Light 2 (untitled)(September 2010)
Chimera (solo novel)(June 2010)
Anthology Wolfsbane and Mistletoe w/Charlaine Harris, Patricia Briggs, Kat Richardson and others (Hardcover 2008, paperback Holiday Season 2009)
And for updates:
http://www.robthurman.net

http://robgoodfella.livejournal.com/
Remember, leave your name and questions in the comments to be entered in the drawing for TRICK OF THE LIGHT!