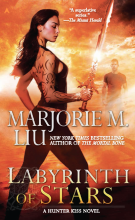 My nineteenth novel comes out tomorrow.  That's an unreal number to me, so let's put it another way: my latest is hitting shelves, and it's the fifth in the Hunter Kiss series.  Maxine and her demon boys have been inhabiting my imagination for maybe seven years — and each time I sit down to continue their adventures it's an intense process, surprisingly emotional.  Labyrinth of Stars especially, for a variety of reasons.
To my readers, I apologize for the long wait between novels.  I needed the time, and I appreciate your patience and continued support — more than I can say.   Labyrinth of Stars can be purchased anywhere, but here are the standard links: Amazon, Barnes & Noble, Powells.  
I'll be doing a series of interviews about the novel, but for now, here's an excerpt:  chapter five, posted exclusively at Literary Escapism.
I have another release to announce, but this story has been published before (in last year's Charlaine Harris
anthology, An Apple for the Creature).  "Sympathy for the Bones" is a short tale set in old Appalachia, about a girl who is looking for a way to free her soul.  I had a good time writing that little tale — as I did, the novel — and I hope you manage to check out both.
Again, thank you for all support.  It means the world to me.  Now, onward to Happy Release Day!