I take great pleasure in inviting other writers to stop by this blog to discuss their books — books that I also happen to love.  It's self-serving, of course; I get a chance to do a public happy dance (you know, when you've read something so amazing you can't sit still) and talk the ear off the writer who just made me so giddy.
Recently, I had the honor of reading an amazing debut YA, Thrones and Bones. It's delightful, witty, heartfelt — also, a lot of fun.  Its mastermind is Lou Anders, the Hugo Award winning editorial director of Pyr Books — and now, brand new author.  I'm very tickled that he's visiting the blog, and agreed to this chat.
Check out the following interview, and leave your name in the comments to win a copy of his book (we'll draw a name on September 5th).  Apologies: the giveaway is limited to US residents only.
1.  You created such a rich and magnificent world in Frostborn, the setting itself is practically a character. How did you come up with the idea for the world? What kinds of resources did you use to create it?
Lou: Frostborn began with Thianna. I wanted to write a female protagonist who could be as strong as any classic heroic fantasy hero, but I wanted to make sure that she was someone that I would be proud for women—beginning with my own daughter—to read about one day. A lot of female heroines in fantasy and comic books that are being presented as strong female role models are still being crafted with what seems to be teenage boys in mind. I also wanted to write about a character who was biracial, which is a big concern of mine because my own children are biracial. Somewhere, that came together as Thianna, child of a human mother and a frost giant father. Thianna's first outing was a dreadful short story I wrote back in 2009 or so, featuring an adult Thianna in a buddy story that was a sad attempt to imitate Fritz Leiber. I put that aside and wrote two completely unrelated manuscripts, but I couldn't get her out of my head. I came back to my half giant when I realized that her backstory was the story.
At that point, I held off on any thoughts of plot and started to build her world. Frost giants meant Scandinavian. So I set about to create a Norse-inspired country. But I started with the whole planet. There's a magnificent program from Pro Fantasy called Fractal Terrains 3. It was developed for Role Playing Gamers, but a number of fantasy authors use it. The program generates whole worlds at the touch of a button, but gives you a vast suite of paint effects that can be applied to the results. Just by mousing your brush over an area, you can summon islands up out of the sea or sink continents. You can adjust temperature, rainfall, elevation, etc…I don't mean that it makes it for you. It's a tool, like Photoshop or InDesign is a tool, and I spent a good three weeks or more just working in the program for hours a day until I had exactly the world I wanted. I then zoomed in on the tiniest corner of one continent and went to work building Thianna's homeland of Ymiria and it's neighboring human land of Norrøngard. Around this time, I realized I was building a setting that was bigger than one book. In fact, my goal became to build a world large,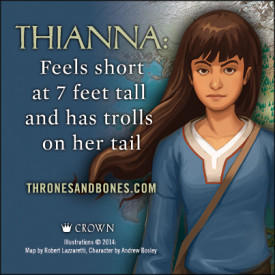 complex, and varied enough that I could set any fantasy story I might ever choose to write somewhere on its globe. But I still thought I could start simple, with my tiny country on the northwestern-most tip of a great landmass. But as I began to research the Vikings, I realized how mistaken I was. Because the Vikings went EVERYWHERE. Not only did they sail to Constantinople and the Mediterranean, but they clashed with Inuits and Native Americans. I quickly realized that I couldn't understand my Norrøngard unless I understood their neighbors, and their neighbor's neighbors, and their neighbor's neighbor's neighbors. The result was three months of world building and about forty thousand words of culture, history, and geography on about twenty-three countries before I ever wrote word one of plot.
I should say that very little of this makes the book. But I think, for me at least, having this much background lends an authenticity to the what does appear in the book. There's a line in the second book where someone tells Karn (our male co-lead) that his sword "has a more storied history than you know."The sword actually has a one thousand year history, spanning three countries, but we don't get that in the books. But because I know it, I'm able to drop in that line.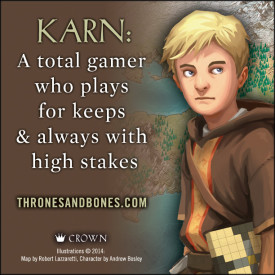 2. Dual POV can be tricky sometimes in books. How did you balance the two story lines? Did you find it challenging at first or did both characters just come to you?
Lou: Thianna came first. Karn Korlundsson only came after the world building. I wanted a boy and a girl, for boys and girls. As Thianna was big, brash, fearless, outgoing, aggressive, so Karn became introspective, quiet, more inclined to think before acting, less physical. Thianna is a great fan of a Norse game called Knattleikr—kind of like rugby played with cricket bats by Vikings—so Karn is a fan of table games, in this case a game I created called Thrones & Bones, based somewhat on some of the historical tafl games played by the Vikings. We meet both characters initially in their separate environments and our POV switches between them, but once they are together they remain together for most of the book. Their experiences run in parallel in a lot of ways, and in others, their respective journeys are the inverse of each other's.
3. If there was any place you could travel to right now where would it be?
Lou: Istanbul. I was very fortunate to be able to visit Norway while working on the revisions for Frostborn. The second book has a section in a city with some similarities to Constantinople. I would love to be able to go there and do some actual research. Other sections of book two and three are set in lands inspired by Switzerland and Greece, and I have visited both of those countries in my youth, but I've never been to Turkey. There are so many places in Instanbul I'd love to see.
4. Fun facts about yourself most people don't know or wouldn't expect?
Lou: I have walked through the sets of four starships and two space stations, and slept on the floor of Susan Ivanovah's quarters on Babylon 5. I have walked upon the Great Wall of China. I have dined in the Eiffel Tower. I have been in the Parthenon and the Forbidden City. I have eaten brains (squirrel and cow), and snake (yum!), but I cannot abide squash. Chewing gum also grosses me out. I have had my head palmed by Michael Jordan, while trying to tell him that he was the reason I first shaved my scalp. I directed Michael Shannon in a super hero battle in a bad late night play in Chicago decades before he was in Man of Steel. He has slept on my couch many times. I studied Shakespeare alongside Tiny Fey. We didn't get on at first. I doubt she remembers.
5. What was your favorite childhood book/author?
Lou: Michael Moorcock. Hands down. The man revolutionized fantasy with his notions of Law vs Chaos, was instrumental in pushing the boundaries of SF with the New Wave movement he championed, was a profound influence on both pen and paper RPGs and videogames, left his mark on rock music, and gave physicists the word—and the notion—of the multiverse. I don't think there are many fantasy authors in the history of the field with a greater influence, even if few recognize it today. But as an adolescent, I just thought the notion of a depressed albino with a soul sucking black sword was too cool to resist and I read him obsessively. I also had a coffee table edition of The Hobbit with concept art from the 1977 animated television movie that I treasured (and still do) a hardcover book called Batman: From the 30s to the 70s that was profoundly influential on giving me an appreciate for art and a notion of how a medium could evolve over time.
6. What other projects are you working on/any closing worlds about Frostborn?
Lou: Well, currently, I'm about to set out on a tour in support of Frostborn while working on revisions for book two, and I've just started plotting book three. I've also built a board game for book two and am starting to think about the board game for book three. There's an RPG set in the Thrones & Bones world that was playtested at GenCon last year that I'm developing, and I have notions for a Thrones & Bones trading card game. Today, about forty separate pieces of art have been commissioned in support of the world of the books, with more on the way. Which is almost a project in itself and certainly hints at possibilities. Hollywood, I am waiting for your call.
————
Lou Anders's research on Norse mythology while writing Frostborn turned into a love affair with Viking culture and a first visit to Norway. He hopes the series will appeal to boys and girls equally. Anders is the recipient of a Hugo Award for editing and a Chesley Award for art direction. He has published over 500 articles and stories on science fiction and fantasy television and literature. Frostborn, which Publishers Weekly described as "thoroughly enjoyable"(starred review), is his first middle grade novel. A prolific speaker, Anders regularly attends writing conventions around the country. He and his family reside in Birmingham, Alabama. You can visit Anders online at louanders.com and ThronesandBones.com, on Facebook, and on Twitter at @ThronesandBones.