Without fail, all the interesting stuff happens on the day I leave China.
So, I'm lounging in bed this morning, contemplating the past six weeks, when I hear some rather loud shouts that sound disturbingly close to my window. I think, "That can't be right," and jump out of bed only to discover that yes, once again, there are men swinging from ropes outside my window, hanging yet more banners protesting the construction going on next door.
Apparently, there was a resident meeting last night. Word is they know the construction won't stop, but now they want a height limit on the new buildings—perhaps five stories, and no more. Like that's gonna happen. But this was the result of their evening pow-wow (click to enlarge):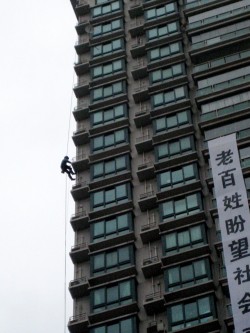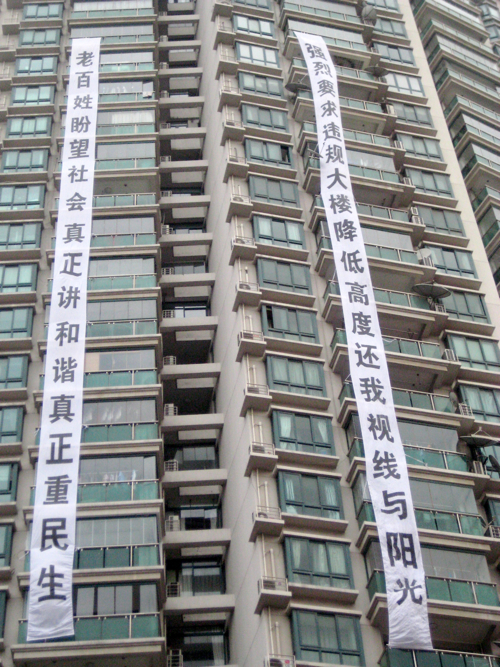 The translation of the two parallel banners goes like this: WE STRONGLY REQUEST THE ILLEGAL BUILDING LOWER ITS HEIGHT AND RETURN OUR VIEW AND SUNLIGHT and THE PEOPLE EXPECT SOCIETY TO TALK ABOUT HARMONY AND RESPECT THE PEOPLE'S WELFARE.
But the banner that has one word written in red? Oh, man. Strong language. Fighting words: THE RESIDENTS OF THIS APARTMENT COMPLEX ARE WILLING TO EXACT A BLOOD PRICE TO PROTECT OUR HOME.
Watch out!
Oh, and as we were coming home from Starbucks, we crossed paths with the men who had been hanging the banners. They were walking out of our apartment building with all their equipment (i.e. ropes) and when asked whether they were scared of heights, they gave us incredulous looks, and were like: "Dude, whatever." Which is more or less what I expected.
In other news, I'm packed. For those who have an interest in my packing (and you know who you are), I did have to increase my suitcase size to accommodate the purchase of three pairs of shoes, two dresses, and one denim jacket. I'm still using a carry-on, but the brown bag on the left is what I came over with, and the blue bag is what I'll be using on the way home. It's quite heavy, I admit, but that's what you get for being a dense packer.
I'm going to miss China. This is a good place to get lost and unlearn some of the habits that, as a writer, need to be shaken up every now and then. Plus, it's just flat-out fun. I'll probably be twittering throughout the morning and at the airport, but the next time I really blog from China will likely be in the late summer or fall.
Bye, Shanghai!