Making progress, but the book just took a turn I did not expect. At all. I think it's gonna work, though. I really do.
I'm taking a break in a minute to make a very early dinner. I don't like to eat late, so I usually have my big meal of the day around three or four. It's a natural stopping point when I'm working—by now my brain almost always needs a rest—and some very loud music. I've been listening to John Mayer while I cook—trying not to think about the whole 'man-kini' fiasco—but I may switch over to Sting or Daughtry this afternoon. That, and Pete Yorn and Scarlett Johansson just came out with a new single that's kind of catchy.
It's hot out, but yesterday I whipped up a tomato stew (which is really more like a soup, and truly much better to eat in winter when it's freezing out). It's very hearty and healthy, and there's not much to making it. Basically, you can't make a mistake, and it's good when you have leftovers that you want to get rid of. My version goes like this:
Lots of tomatoes, yellow and red, cut up and thrown into a pot with some olive oil.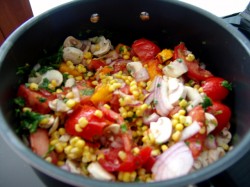 Of course, the problem with cooking that many tomatoes is that they can taste acidic, or even bitter, when you have too many of them together. This is why I like to add in a bag of frozen corn—that bit of sweetness strikes just the right balance. After that, it just depends on what I've got around. Yesterday it was a box of sliced mushrooms, finely chopped cilantro, and a sliced onion. Throw in whatever else you like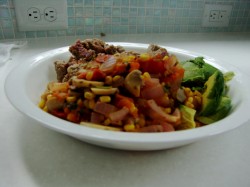 — finely grated carrots, a small amount of celery (because too much of that can get funky)—even your choice of herbs. Me, I'm not really an herb person—unless it's a bit of fresh basil with salmon—so work with what you love.
The tomato stew/soup wasn't enough, though—and because it's summer and I'm addicted to avocados, I sliced one up to put on the side—along with some ground turkey that I fried up in the skillet. Voila. Lunch and dinner on a sunny summer day. It won't win any prizes, but it sure is filling.
Okay, now I'm really hungry. I'm gonna haul off to the kitchen and scrounge around for something I can experiment with. What are your favorite recipes?