I've been slow posting this, mostly because of the tour — and navigating a tour with a broken foot.  I have, however, been outfitted with my own scooter here at SDCC. I won't lie, I'm having a blast driving this thing around.  Just watch out for your toes.
I've listed signing times below for our booth — we might add more times, but that depends on demand and our schedules.
Also of note: MERCHANDISE. Sana brought some real goodies from Japan this time — mini-towels, memo pads, postcard sets — and then we've got an extra surprise in the form of limited edition CREATOR VARIANTS for Monstress Vol 1 and Vol 2.  There's also a hardcover edition being sold through Image!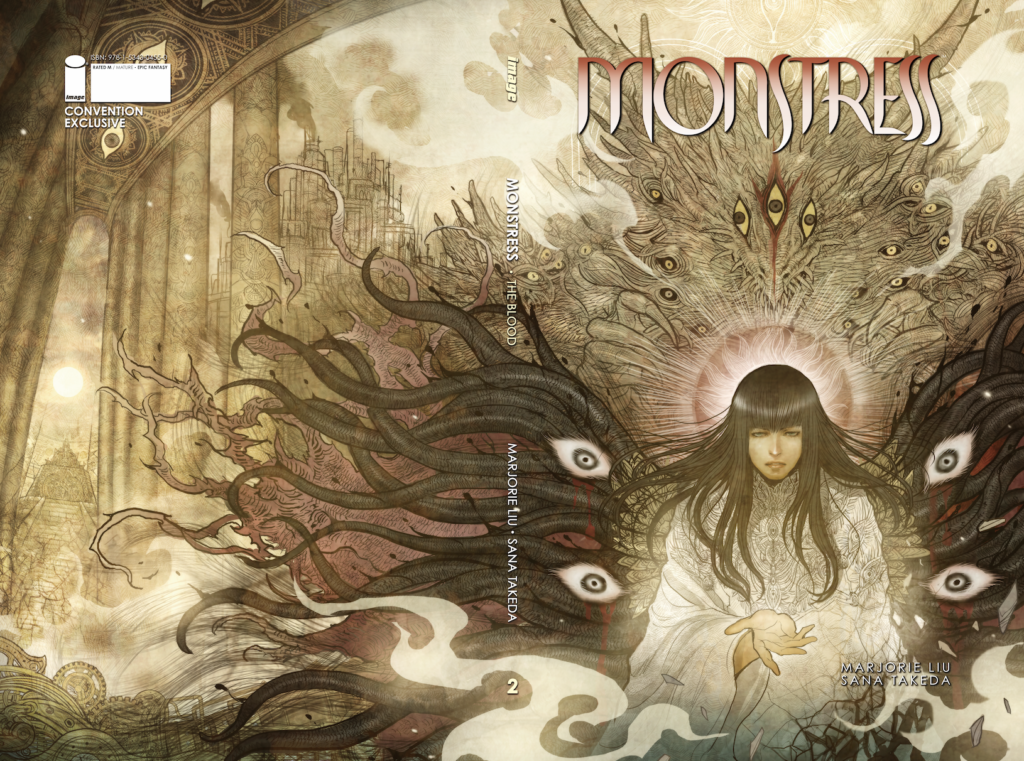 Wednesday (PREVIEW NIGHT):
Doors open and Sana Takeda, me, and Anne Elizabeth will be hanging out at the booth and signing (with some breaks to rest our hands) until 8 pm.  And then we gotta run.
Thursday:
10 – 11:30 (or noonish):  #2201 Booth Signing
1-2 PM: Signing at the Marvel Booth
5:00 – 6 :00 PM
SDCC PANEL:  World Building
Room 9
This panel will include Marguerite Bennett, Roxane Gay, Marjorie Liu, Dustin Nguyen, and Liz Suburbia. Panel will be moderated by Vince Hernandez (Aspen).

Friday:
10:00 – 11:00 AM
SDCC SPOTLIGHT:  Spotlight on Marjorie Liu
Room 29AB
Moderated by David Brothers, we'll be talking about my career, and Monstress!
11:00 – 12 Noon
IMAGE PANEL:  "Image Comics: Excellence in Storytelling"
Room: 23ABC
Nick Dragotta (East of West), Marjorie Liu (Monstress), Dustin Nguyen (Descender), Marc Bernardin (Genius), Amy Reeder (Rocket Girl), and Greg Hinkle (Black Cloud).
3 – 5 pm:  #2201 Booth Signing
Saturday:
10 – 11:30 (or noonish):  #2201 Booth Signing
4-5 PM – signing at the Image Booth