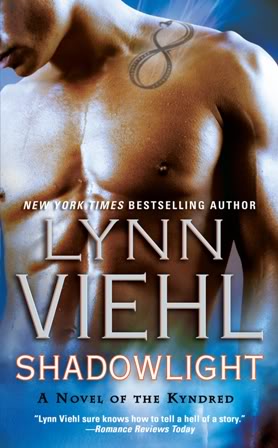 Let me state up front: I would do backflips and bark like a dog to receive advanced copies of Lynn Viehl's books. So when she made e-arcs available for her October 6th release, SHADOWLIGHT, I emailed her like the hussy I am and requested (or demanded, I can't remember now) that she send me one. Which she did, being the kind hearted lovely person that she is.
And oh, you are in for a treat.
SHADOWLIGHT is the beginning of a new series, one that takes place inside the same universe as Lynn's Darkyn books (also excellent). In fact, you'll find some familiar characters cropping up in this story—which is one of the best things I have read in quite some time. Superb world building, romance, suspense—everything a person could possibly want. I wish I could pull off even half of what she did. SHADOWLIGHT the kind of book that will energize you after you've read it—energize and exhaust you, because you'll be wrung to pieces from what she puts the characters through.
But don't take my word for it. I'm giving away three unsigned copies of SHADOWLIGHT and three copies of a surprise Darkyn novel. Just leave your names in the comments, and I'll draw winners on Tuesday night.
Until then, have a great weekend. I won't have internet access (I don't think) for the next several days, so this is my last update until early next week.