Sweeping tombs is not as peaceful—or as creepy—as you might think. Assuming you think about that kind of thing. And in what context.
In China, if you die within city-limits, you have to be cremated. That's the law. My great-aunt died before this law was enacted, and was buried on family land in the early 1950's. Her parents passed away much later than that, and my great-grandmother, on her dying breath, was driven out of the city so that she wouldn't be cremated. She and her husband were also buried on family land that was owned before the Communists took over.
Of course, the boundaries of family land in China tend to change depending on the whims of the government (or in this case, the Cultural Revolution), and their remains had to be moved several times before they were finally settled at a permanent graveyard less than three miles from the Shaolin Temple in Henan Province.
So, this weekend belonged to the Tomb Sweeping Festival, a time to pay respect to your deceased ancestors, take care of their graves, etc. Basically, it's the one time of the year you're supposed to think about those you've lost, in case that's not something you're inclined to do on your own. Folks burn offerings, leave food, drink, light firecrackers (and, in some cases, fireworks), sweep all the dust and bits of accumulated litter away (there's a lot of litter in these graveyards), wash down the tombstones, and say a prayer. It's sweet, and profound. It's very profound.
And loud. It's not an exaggeration to say that it sounds like you're on a battlefield. Or in the middle of the loudest Chinese New Year celebration you can think of. Firecrackers are going off everywhere, so that there's no safe place to walk or stand, and the air is thick with smoke from all the burned offerings.
After we had paid our respects, we drove the short distance to the Shaolin Temple. For those who aren't familiar with the place, it's a very old Buddhist monastery in China that is best known for its association with Chinese martial arts. It's an active monastery. I saw a lot of young punks (said affectionately, and with some seriousness) in serious training. Little boys who couldn't have been older than six or seven, as well as others in their mid to late teens.
(Incidentally, there are A LOT of gong fu schools in this area, trying to capitalize on the Shaolin name. I'm told these schools are pretty much like any other grade schools in China—except that martial arts are part of the curriculum, along with math, science, history, and so on. You can see pictures of some of them below…lots of boys in red…I did not see one girl.)
Anyway, it's lovely there. Incredibly beautiful. Very commercial in certain areas, but I suppose that's to be expected. My dad joked that the head monk who runs the place probably has an MBA.
We went to the Pagoda Forest first. Pictures don't do it justice. It's eerie. It's haunting. It's beautiful—but that's a cheap word, compared to the reality. You feel something there. You hear it in the wind.
Other photos (from the monastery's temple): me, getting my fortune read based off my Chinese name, my cousin and aunts, a tree filled with holes supposedly made from uber-tough fingers making repeated stabbing motions…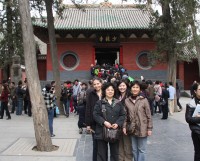 Okay, that's more than enough for now. Tomorrow, I'll post about the second part of my trip.