Gang, this is the big week!  Monstress Vol 2 is already out, and we kick off our book tour this Wednesday, July 12th!  If you're in New York, Seattle, Portland, the Bay Area, or San Diego, come say hi!
July 12th – Barnes and Noble – Tribeca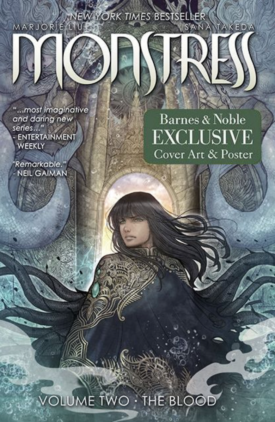 I'll be here on my own (I meet up with Sana in Seattle), discussing Monstress, answering your questions, and signing our B&N EXCLUSIVE, which we created just for them (and that includes a poster).
More information here. The event begins at 6 pm.
July 14th – Comics Dungeon – Seattle, WA
From 6-8 pm, Sana Takeda and I will be signing books at Comics Dungeon!  Don't be shy!  We're so excited to be back in Seattle again (I grew up there, so I always love returning to the Pacific Northwest).
July 15th – Powell's City of Books – Portland, OR
Portland, Team Monstress is coming!  We'll be discussing Monstress, answering questions, and signing.  I will also be eating my way through the city — I'm just warning you now.  The event starts at 2 pm!
July 16th – Dr. Comics Mr. Games – Oakland, CA
Ah, the Bay Area.  I love you.  I love you.  We were with you last summer, and now we're coming back.  Join us from 1 – 4 pm on Sunday, where there will be an "exclusive" surprise.
July 17th – Barnes & Noble – Mira Mesa, CA
If you live in San Diego but aren't going to San Diego Comic Con, then this event is for you!  Sana Takeda and I will be discussing Monstress and signing books, starting at 7 pm.  More information here!
AND THEN THERE'S SAN DIEGO COMIC CON.
More on that later.