When speaking of religion in China—or rather, listening to others outside China speak of religion in China—the erroneous impression one often receives is that a) there is no religion in China, b) there has never been religion in China, or c) you're not permitted to be religious in China. All of which is inaccurate, except for the fact that after 1949, especially during the Cultural Revolution, religious activity was actively repressed, religious figures were persecuted, and all hell broke loose (not just around religion, but in every facet of society…several of my own relatives committed suicide rather than subject themselves to mistreatment at the hands of the fanatical mob).
I'm not contradicting myself. Before 1949 or so, China was a place where religious diversity was not just tolerated, it was protected. Obviously, times changed, but China is currently entering a period of religious revival. Kind of.
At any rate, all of that is a lead-in to a remarkable religious treasure in Songjiang, which is a nice district about an hour outside downtown Shanghai. Songjiang is a very old city in China, and was, once upon a time, the location of the governorship of what is currently now Shanghai. There, tucked away off a busy shopping district, is one of the oldest Islamic buildings in China—a mosque that dates back to the Yuan Dynasty (around 1271-1368).
The Yuan Dynasty was dominated by the ruling Mongolian presence, and besides advances in literature and science, the development of foreign trade was huge. The Silk Road flourished, and trade relations were established far beyond Chinese borders. Many important ruling officials were brought in from Central Asia, including Songjiang's governor—who was Muslim. Hence, the building of the Songjiang Mosque.
You can see from the photographs below (click to enlarge) that the mosque combines both Arab and Chinese architectural styles. It is still used by local Muslims, though when we were there it was quite empty. There was an old cemetery where the headstones were written in both Chinese and Arabic, though it seemed disrespectful to take photographs of the surprisingly small tombs. And that tree you can see behind the wall? Four hundred years old.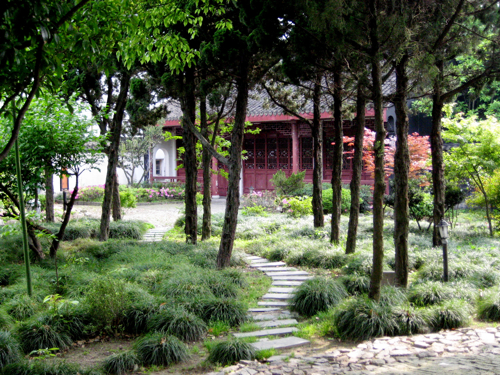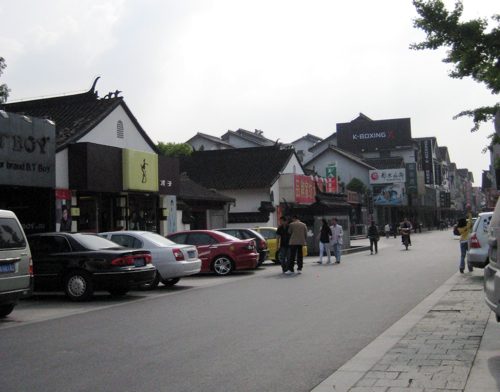 This is the street where you can find the entrance to the mosque. You would never know it's there, if you weren't paying attention—and, indeed, many locals aren't even aware that it exists. If you decide to go, you may have trouble finding the place, but it's well worth the visit.