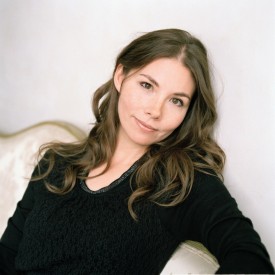 Marjorie Liu is an attorney and New York Times bestselling novelist and comic book writer. Her work at Marvel includes X-23, Black Widow, Han Solo, Dark Wolverine and Astonishing X-Men. She is also the co-creator of Monstress from Image Comics, which has won multiple Hugo Awards, British Fantasy Awards, the Harvey Award, and five Eisner Awards, making Liu the first-ever woman (and woman of color) to win an Eisner in the Best Writer category. She teaches comic book writing at MIT.
Some more details about her work:
Ms. Liu's extensive work with Marvel includes the Dark Wolverine series, NYX:  No Way Home, X-23, and Black Widow: The Name of the Rose. She received national media attention for Astonishing X-Men, which featured the gay wedding of X-Man Northstar and was subsequently nominated for a GLAAD Media Award for outstanding media images of the lesbian, gay, bisexual and transgender community.
Ms. Liu also wrote the story for the animated film, Avengers Confidential:  Black Widow and Punisher, which was produced by Marvel, Sony Pictures Entertainment (Japan) Inc., and Madhouse Inc.  She was the writer of the Han Solo limited series, which debuted at #6 on the New York Times Bestseller list, and was nominated for an Eisner Award.
Her latest work is Monstress, an original, creator-owned comic book series with Japanese artist (and X-23 collaborator) Sana Takeda. Published by Image in Fall 2015, MONSTRESS is set in an alternate, matriarchal Asia and follows a girl's struggle to survive the trauma of war. With a cast of girls and monsters and set against a richly imagined aesthetic of art deco-inflected steam punk, Monstress #1 debuted to critical praise. The Hollywood Reporter remarked that the longer than typical first issue was "world-building on a scale rare in mainstream comics."
Monstress Vol 1 spent 4 weeks on the New York Times Bestseller List, debuting at #3 and #2, respectively; and in 2017, 2018, and 2019 won the Hugo for Best Graphic Novel.  Monstress Vol 1-3 have collectively been nominated for 14 Eisner Awards, and in 2018, Monstress took home 5 Eisners, including one for best writer.  Ms. Liu was the first woman, and woman of color, to receive the award in its 30 year history.
Ms. Liu is also the author of more than 19 novels, most notably the urban fantasy series, Hunter Kiss, and the paranormal romance series, Dirk & Steele. Her novels have been bestsellers on USA Today, which described Liu "as imaginative as she is prolific." Her critically praised fiction has twice received the Romantic Times Reviewers' Choice Award for The Mortal Bone (Hunter Kiss #6), and Tiger Eye (Dirk & Steele #1). Tiger Eye was the basis for a bestselling paranormal romance video game called Tiger Eye:  Curse of the Riddle Box.
Ms. Liu was a featured speaker alongside Rachel Maddow, Ta'nahesi Coats, and Malcom Gladwell at BookExpo, and has appeared on MSNBC (see clip), CNN (see clip), MTV, and been profiled in the Wall Street Journal.com, Hollywood Reporter, The Atlantic, the LA Review of Books, Guernica, and USA Today. She is a frequent lecturer and guest speaker, appearing on panels at San Diego Comic Con, the Tokyo Literary Festival, the New York Times Public Lecture series, Geeks Out; and the Asian American Writers Workshop. Her work has been published internationally in almost every market, from Turkey to Brazil to China.
Ms. Liu was born in Philadelphia, grew up in Seattle, and has lived in numerous cities in the Midwest, as well as Beijing, Shanghai, and Tokyo. Prior to writing full-time, she was a lawyer.
Contact & Media Information
Ms. Liu's agent is Duvall Osteen of Aragi, Inc. Please contact her for any business-related inquiries, including publicity and blurb requests, and speaking engagements: connect@aragi.net
Professional Awards
2022 Hugo Award Nominee: Best Graphic Novel — Monstress Vol 6: The Vow
2022 New England Book Award Nominee: Middle Grade — Wingbearer
2022 Eisner Award Winner: Best Painter/Multimedia Artist (Sana Takeda) — Monstress
2021 Ringo Award Nominee: Best Writer
2021 Hugo Award Nominee: Best Graphic Novel — Monstress Vol 5: Warchild
2020 Hugo Award Nominee: Best Graphic Novel — Monstress Vol 4: The Chosen
2019 Hugo Award Winner: Best Graphic Novel — Monstress Vol 3: Haven
2018 Harvey Award Winner: Book of the Year Award — Monstress
2018 British Fantasy Award Winner: Best Graphic Novel — Monstress Vol 2: The Blood
2018 Hugo Award Winner: Best Graphic Novel — Monstress Vol 2: The Blood
2018 National Cartoonist Society Award Winner: Best Graphic Novel (Sana Takeda) – Monstress Vol 2: The Blood
2018 Eisner Award Winner: Best Writer — Monstress Vol 2: The Blood
2018 Eisner Award Winner: Best Continuing Series: Monstress Vol 2: The Blood
2018 Eisner Award Winner: Publication for teens (ages 13-17) – Monstress Vol 2: The Blood
2017 Eisner Award Nominee: Publication for teens (ages 13-17) – Monstress Vol 1: Awakening
2017 Hugo Award Winner: Best Graphic Novel — Monstress Vol 1: Awakening
2017 British Fantasy Award Winner: Best Graphic Novel — Monstress Vol 1: Awakening
2016 Eisner Award Nominee: Best New Series — Monstress Vol 1: Awakening
2016 Eisner Award Nominee: Best Writer — Monstress Vol 1: Awakening
2013 Nominee for GLAAD Media Award for Outstanding Comic Book (Astonishing X-Men) for outstanding media images of the lesbian, gay, bisexual and transgender community that inspire change
2012 Romantic Times Reviewers' Choice Award, Urban Fantasy Worldbuilding, THE MORTAL BONE
2011 Romantic Times Reviewers' Choice Nominee, Paranormal Romance, WITHIN THE FLAMES
2011 Romantic Times Book of the Year Nominee, WITHIN THE FLAMES
2008 Nominee Romantic Times Reviewers' Choice Award, Best Shapeshifter Romance, THE LAST TWILIGHT
2008 Nominee Romantic Times Reviewers' Choice Award, Best Urban Fantasy, THE IRON HUNT
2006 DOUBLE RITA NOMINEE for SHADOW TOUCH and EYE OF HEAVEN
2006 Nominee for the Kiss of Death Daphne du Maurier Award, SHADOW TOUCH
2006 Nominee for the PRISM award, A DREAM OF STONE AND SHADOW
2005 PEARL Award, Best Futuristic, A TASTE OF CRIMSON
2005 PEARL Award, Best New Author
2005 RITA NOMINEE for A TASTE OF CRIMSON
2005 Romantic Times Reviewers' Choice Award, Best Contemporary Paranormal Romance, TIGER EYE