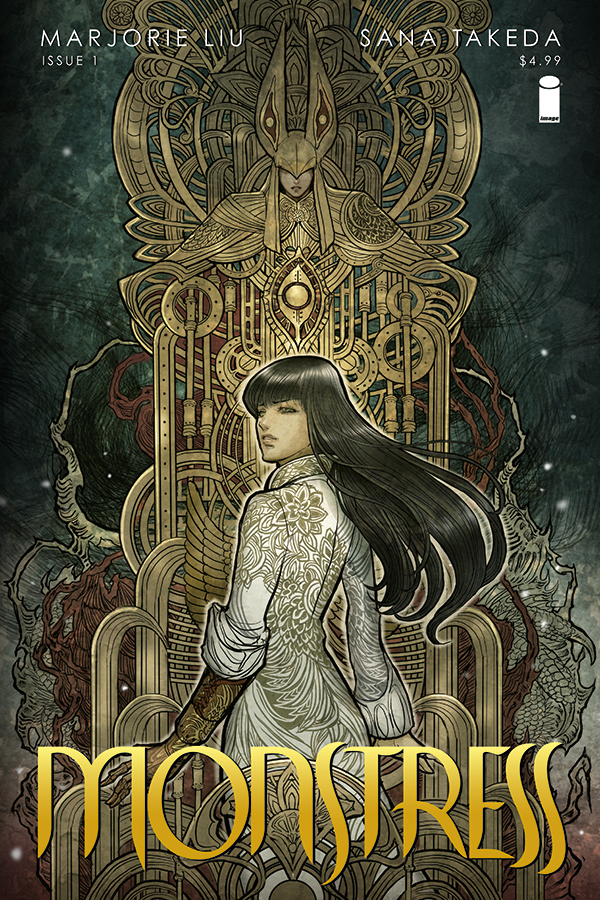 Monstress #1
Published: November, 2015
Writer: Marjorie Liu
Artist: Sana Takeda
A young woman named Maika — an outsider, an outcast — begins to unravel her mysterious past, and in the process discovers she's got a tenuous psychic connection to a powerful, otherworldly creature, one of many that roam the earth.
This link puts her in the cross-hairs of an old battle between competing supernatural and human factions, all of whom desire control over these elusive creatures.
What none of them count on is Maika herself — her courage, her intelligence, her compassion— or the fact that she's slowly becoming something more than human.
A dark fantastic adventure set in an alternate 1900s Asia, Monstress #1 came out in November, 2015 and was fast-tracked for a second printing to keep up with the high customer demand. Read more about Monstress on Tumblr, in interviews with Marjorie Liu, or in the reviews below.
Reviews
"Monstress #1 "is a first issue that includes not only girls and giant monsters, but also world-building on a scale rare in mainstream comics." – The Hollywood Reporter
Comics Alliance: Liu and Takeda's 'Monstress' #1 Is Beautifully Horrifying
The Novel Hermit: The Beauty of Monstress + The Powerful Women In It
Racialicious: Marjorie M. Liu's Monstress Explores Our Inner Darkness
Black Girl Nerds: Monstress, Why Feminism is Best Served Diverse
Kotaku: Monstress Is A Gorgeous Comic Book About Racism, War and Slavery