…are growing things!
I've mentioned a couple times, here and on Twitter, that I'm trying to grow a garden this year. I've got some tomatoes planted in the ground down by the old farmhouse, but I'm also experimenting with container gardens—partially because we've got wildlife-on-steroids around here that would likely eat everything—but mostly because I'm too lazy to deal with weeds, and whatever else I'd need to do to maintain the garden.
But, look! I have a baby melon! I've been sending this picture around to all my friends like a crazy person (you'd think I had given birth to it, or something), but I'm just so tickled. It's adorable! It's green! I hope it lives!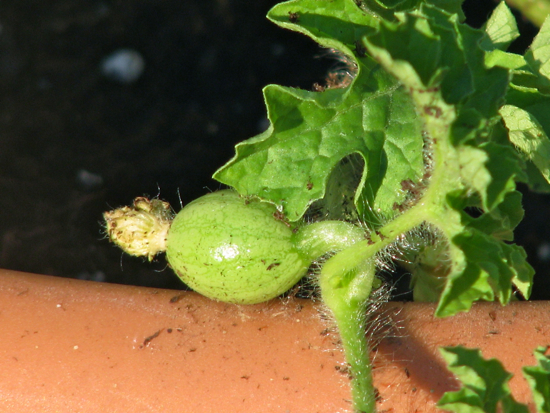 And then, there are the baby birds. This little one is living by the front door. His mother is steadfast and very sweet, and this is her second nest of the summer. Her first four babies flew away about a month and a half ago, and I thought that was it. But not long afterward she came back and began rebuilding her nest. I'll have to take a toothbrush to the porch roof and the house siding this fall, but I don't mind.