Okay, let me get the big news out of the way first:
My next project at Marvel is the ongoing series, DARK WOLVERINE. I'm co-writing it with Daniel Way (Deadpool, Wolverine Origins), and it is going to be a wild, wild, book. Comic Book Resources is running an interview we did, and I'll be posting more as they come up—but suffice to say, I am out of my mind with excitement. Honestly, this makes me crazy (in a good way).
Second of all, congratulations to Tiarra for winning the signed copy of THE SPIRAL HUNT! Get in touch with me, and we'll get you taken care of.
Now, on to Comic Con. I arrived at ten because I was supposed to do a podcast interview with Daniel and the Marvel folks, and the line for registered professionals to get their badges stretched across the entire length of the Jacob Javits center. This is a big place, folks, and that line was insane. No way I would have made that interview. So, desperate, I placed some calls and the people at Marvel sent someone to stand in line for me. That was so incredibly kind. And the exhibitor badge I borrowed said that my name was Mary Jane Watson. How cool is that?
The interview, though, was really short. I wandered a bit with Daniel, and then met up with a friend who I've known for years, even though this is the first time we've ever been able to be in the same place, at the same time..
The panel was relatively good (I say 'relatively' because of some rather rude questions from the audience). You can see me there, seated between Daniel Way and our editor, John Barber. The Wolverine book was announced, along with several other projects belonging to the writers. At the Marvel signing, I sat next to C.B. Cebluski, who is a sweetie pie.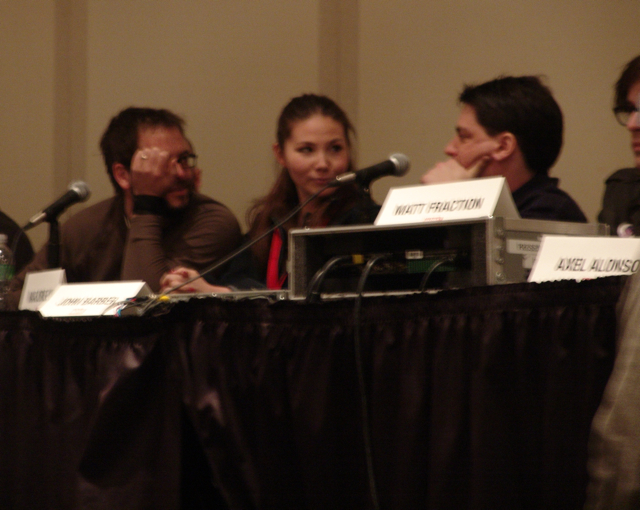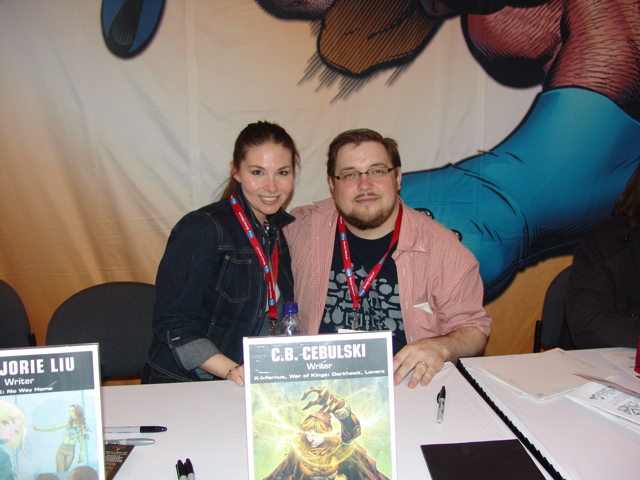 And here, the other half of the NYX creative team! Kalman!
I am exhaused now. Truly, beat. There's a lot to do, but it'll have to wait until morning. See you guys then.