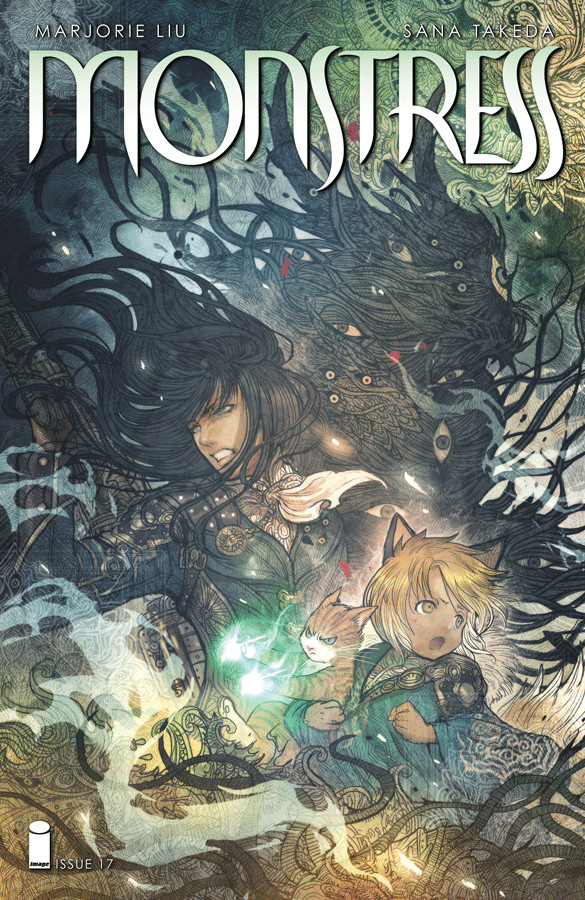 Monstress #17
PUBLISHED: JUNE, 2018
WRITER: MARJORIE LIU
ARTIST: SANA TAKEDA
Where Maika Halfwolf goes, destruction follows. After their trip to the Isle of Bones, Zinn, the Monstrum that lives inside of Maika, devoured the crew of a Thyrian ship. This, combined with the attack on the Thyrian Blood Queens by Inquisitrixes, has put the Thyrian armed forces on high alert — and hot on Maika's trail.
After a narrow escape from Thyrian waters, Maika was offered refuge in the safe harbor city of Pontus in exchange for her promise to activate the famed city-wide Pontus Shield. When her first attempt failed, Maika and Zinn set off on a mission underground to find replacement shield parts in the Shaman-Empress's long-locked Southern Laboratory. There, they battled automata who blamed Zinn for betraying the Shaman-Empress — a betrayal he does not remember. After surviving the brief severing of their connection, defeating the automata, and retrieving the shield parts, Maika and Zinn prepared to return to the surface of Pontus, but the bodies of soldiers falling from above indicate the battle has already begun.
Meanwhile, Kippa joined a group of fox scouts whose goal is to help refugee Arcanics escape to safety should Pontus be attacked. Master Ren decided to tag along, but unbeknownst to Kippa, Ren has been ordered to bring her to his employers, whose motivations, though unknown, are almost certainly insidious.
Reviews
Multiversity Comics: MONSTRESS #17
Comic Watch: Comic Book Review: MONSTRESS #17 (Battle of Pontus)