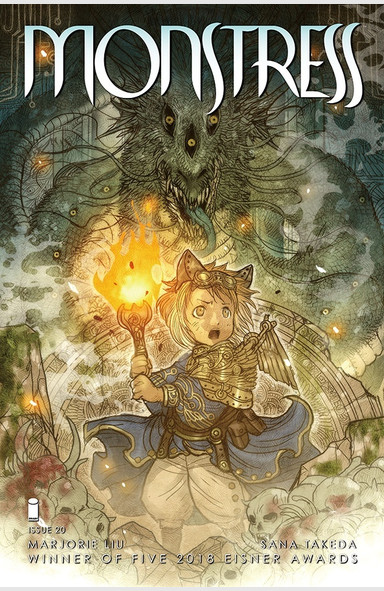 Monstress #20
PUBLISHED: FEBRUARY, 2019
WRITER: MARJORIE LIU
ARTIST: SANA TAKEDA
Chaos continues to surround Maika Halfwolf and the ancient Monstrum, Zinn, that lives within her body. When a Cumaean Inquisitrix named Gull opened a rift between the Known World and the realm that houses the rest of the long-imprisoned Monstra, Maika and Zinn had to use all of their combined strength to close the rift, trapping the Monstra once more and averting certain apocalypse. However, the devastating aftereffects of the breach remain, driving some Arcanics to uncontrollable madness.
Meanwhile, Maika's young friend, Kippa, was betrayed by their fellow companion, the double-agent nekomancer Ren. Now, Maika and her self-appointed protector, Corvin, are on a mission to find the kidnapped Kippa before her captors can take her to the mysterious "doctor." Unbeknownst to them, Kippa, who has begun to manifest supernatural powers, has managed to slip away from her kidnappers — but her escape has led her to the Tomb of Baru, a cursed cave from which no one has ever returned.
Through it all, the Known World is moving ever closer to open warfare between humans and Arcanics. In preparation, rival factions are beginning to enter uneasy alliances — including the Arcanic Dusk and Dawn Courts and their betrothed representatives, the Baroness and the Warlord.

Reviews
Bleeding Cool: The Search for Kippa Continues in Monstress #20
Multiversity Comics: Monstress #20
On Comics Ground: The Blessed are Not Easily Touched by Death. (MONSTRESS #20 Comic Review)