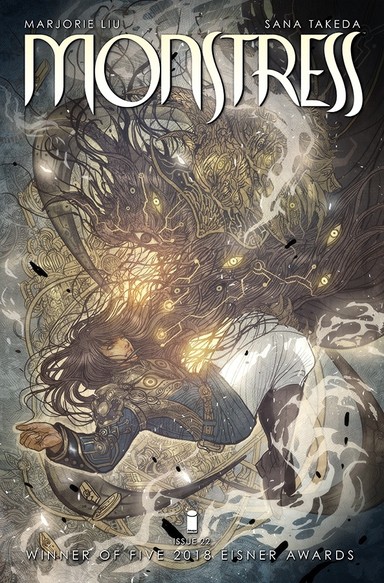 Monstress #22
PUBLISHED: MAY, 2019
WRITER: MARJORIE LIU
ARTIST: SANA TAKEDA
Maika Halfwolf averted certain apocalypse by closing a breach between the Known World and the realm that houses the long-imprisoned Monstra. But there is no rest for the weary, and Maika immediately faced a new challenge: tracking down her young friend, Kippa, whose betrayal by their fellow companion, Ren, had led to her kidnapping. Unfortunately, it wasn't long before Maika herself was kidnapped, attacked, and drugged by her old foe, Yvette Lo Lim, and a group of strangers in red robes.
When Maika awoke, she learned that her captor was her biological father, the last eye-marked descendant of the Shaman-Empress and the leader of the red-robed figures, who worship the Shaman-Empress's bloodline. This Blood Court has formed in secret, prepared to enter the fray and ascend to power when the Known World slips back into open warfare. In their employ are some of the greatest War-Masters of this or any age, ready to serve the Blood Court's cause. But Maika does not trust this father she never knew, not least because he surgically attached a prosthetic arm to her body without her consent.
Meanwhile, Kippa managed to slip away from her own kidnappers by diving into the cave of the Tomb of Baru. One of her captors, Yafaela, followed Kippa into the cave's depths, and now, as Kippa begins to manifest the supernatural powers of her Arcanic gift, the two are searching for a way out of a place from which no living being has ever returned.
Reviews
"A lot of story seeds planted in the previous arcs are coming to fruition with this one…" – Sequential Planet
Bleeding Cool: Monstress #22 – Kippa Makes a Big New (Scary) Friend!
On Comics Ground: "There was a war. There is always a war." (MONSTRESS #22 Comic Review)
Comics Bookcase: Monstress #22 Continues This Book's Best Arc Yet