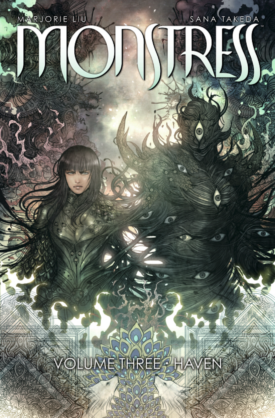 Monstress Vol. 3: Haven
PUBLISHED: Sept 5 2018
WRITER: MARJORIE LIU
ARTIST: SANA TAKEDA
A New York Times bestselling, Harvey Award, two-time Hugo Award, two-time British Fantasy Award, and five-time Eisner Award-winning series (Best Continuing Series, Best Publication for Teens, Best Writer, Best Painter/Multimedia Artist, and Best Cover Artist).
Maika has spent most of her life learning how to fight, but how will she fare when the only way to save her life… is to make friends?
Collects MONSTRESS #13-18.
Reviews
"In its third year, MONSTRESS took its rightful place as the reigning queen of comics." – Entertainment Weekly
Bam Smack Pow: MONSTRESS Vol. 3: Eisner-winning, eye-dazzling epic fantasy
ComicBookWire Review: MONSTRESS Vol. 3: Haven
Rogues Portal: MONSTRESS Vol. 3: Haven Review
Adventures in Poor Taste: MONSTRESS Vol. 3 Review
A Place for the Displaced: MONSTRESS Volume 3