About Marjorie
Marjorie is the author of two ongoing New York Times bestselling series: the Dirk & Steele paranormal romance novels and the Hunter Kiss urban fantasy series.
Recently, Liu introduced the latest novel in her Hunter Kiss series, THE MORTAL BONE (on-sale 12/27/11), about a woman covered in living demonic tattoos. When the bond Maxine Kiss shares with Zee and the boys—the demons tattooed on her skin—is deliberately severed, she is left vulnerable, unprotected…while her demons turn violent and unpredictable without her guiding influence.
WITHIN THE FLAMES, the most recent novel in Marjorie's Dirk & Steele series, is now available from Avon, an imprint of Harper Collins, and pairs pyrokinetic Eddie with dragon shape-shifter Lyssa.  Like Eddie, fire is Lyssa's weapon, her destiny…and her curse.  In the Dirk & Steele series, Marjorie gives readers a chance to discover what happens in a world where magic rubs elbows with science, where men and women with more-than-human powers secretly risk their lives to help others.  It is a world where one right turn can deliver a little mystery that will change your life forever.
Marjorie is also celebrated for her comic book writing and is a popular panelist at conventions and other comic book and literary events.  Recent interviews with top media outlets such as USA Today.com, Wall Street Journal.com, i09, MTV, Newsarama, and Comic Book Resources are available upon request.  Marjorie has co-written the bestselling Dark Wolverine series for Marvel, and wrote the beloved X-23 series for several years.  She authored Black Widow: The Name of the Rose, NYX: No Way Home, and X-Men: Dark Mirror, and is the new ongoing writer for Astonishing X-Men.  She has received critical praise for her writing in Masked, an anthology of superhero fiction, and was also featured in the hardcover anthology based on Jim Henson's The Storyteller television series, now available from Archaia.
Marjorie also gained national renown with the paranormal romance video game, Tiger Eye: Curse of the Riddle Box, which was based on her novel, Tiger Eye. The game was featured on Jimmy Kimmel Live, was a top ten bestseller at Big Fish Games, and is now available at select major retailers.
Marjorie is an attorney and divides her time between the American Midwest and Beijing, China. Recent international coverage of Marjorie's work includes features in the Beijing Global Times, China Daily, and Paris's Comic Box.
To check out what Marjorie is up to, visit her blog or follow her on twitter.
Photo Downloads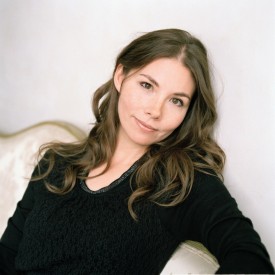 Click on image to download full-size photo of Marjorie M. Liu.
Latest Video Interviews
Latest Print Interviews