I feel as though I've been on the road for weeks, but really, it was just BEA last weekend—and then, this Friday and Saturday I was in Ohio for Lori Foster's Reader and Writer weekend. Lovely time, and lovely people—I write because I love words and stories, but I love, love meeting my readers.
First off, though, my radio interview! I drove out to Middletown and met the great people at Rebel 105.9 FM—Tina, and Jerry "Too Tall" Jennings, specifically—who talked with me about Wolverine, Darkness Calls, and the Fire King. There's me and Jerry in the picture below, plus a shot of their great place. You can't see it well, but there was a shrine to the Naked Cowboy on the wall (not Jerry's doing, but the work of the guy who does the morning show).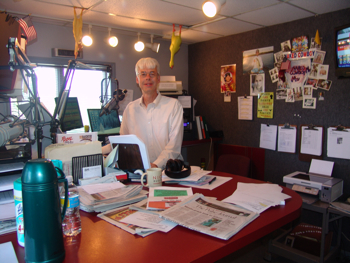 After that, the Lori Foster weekend began! There I am with PW reviewer Joysann, and a shot of the room where most of the action took place during the weekend. Like I said, what a fantastic couple of days, and a great way to meet readers. Thank you so much to all the wonderful, gracious, people who were there.