Over at Shanghai Scrap, Adam Minter is discussing those protest banners that went up yesterday (along with pictures, translations, the whole nine yards):
The people who own the apartments in these high rises are wealthy and – in some cases – very well-connected. They have no reason to fear negative consequences from this obvious attempt to embarrass a powerful and wealthy member of Shanghai's elite. That is to say: this is an uptown fight between two wealthy groups that won't attract much attention unless somebody – an even higher-ranking Party official, say – decides that it's gone on long enough, and it's becoming an embarrassment to the city.
Does this mean the construction will stop? I have serious doubts. But will the dude who owns the development find his backside burning over an open flame? Quite possibly. Being named outright in a highly public protest of this nature is a Bad Thing. It means he's embarrassing someone else who might be higher up the food chain. Such fun.
As part of my jaunt around Shanghai the other day, we stopped at the Astor House Hotel which is just across from the Bund and the historic Waibaidu Bridge (upon which you can see me standing in the picture below).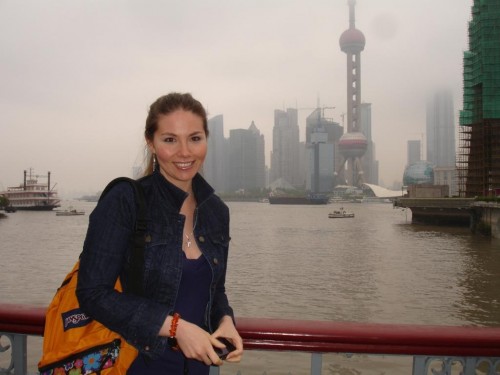 What do I say about the Astor House? What do I say? Do I point out its historical significance during World War Two, or the fact that Albert Einstein, Bertrand Russell, and other notables spent time there (you, too, can stay in their rooms)? Do I talk about how stunning it is, and discuss its labyrinthine architecture? Or the hard wood floors? Dear God, those floors. Granted, the place is showing its age in some spots, but that's nothing. And look here—there was a movie being filmed during our visit!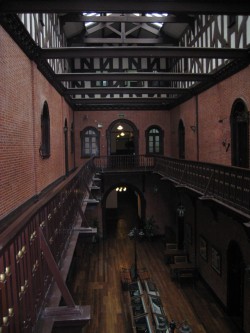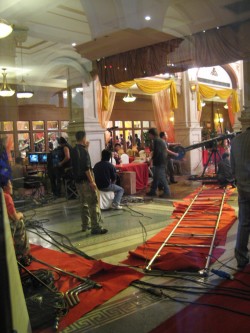 Okay, so there's not much I can say about the place that will fit into the space of this blog, other than that—again—this should be on your top ten list of places to visit in Shanghai. Take your time. Savor the creak of the wood under your shoes, and the lighting, and the ghosts. And hey—when doing some background reading about the Astor House, I found this particular historical gem (accurate or not):
The New Yorker's Emily Hahn, who often visited the Astor House with her pet gibbon, Mr. Mills, became addicted to opium while in Shanghai. "Though I had always wanted to be an opium addict," she later wrote. "I can't claim that as the reason I went to China." She also noted how her good friend Victor Sassoon liked to photograph her naked.
I have nothing that can follow that.