TED: Technology, Entertainment, Design.
I attended TedxBeijing on Friday—a half-day event that featured a dozen speakers from a dozen different professions, all of whom spoke to the attendees about passion. Passion in work, passion in life.
Some quotes I scribbled down:
– Change starts with lifestyle pioneers…

– Passion creates possibilities…

– Strain your limits…

– Exploration is the challenge of managing logistics (you never know what life will throw at you in the field)…
Taken by themselves, I suppose they seem rather ho-hum, but when you're listening to Stefen Chow discuss his journey from mountaineer to photographer, or Ines Brunn talk about how much she loves bicycling (followed by a truly amazing display of athleticism, pictured below), you get hit, again, with gratitude and no small amount of wonder at the realization that yes, it is possible to do what you love for a living, no matter how odd and unique it might be, and yes, you can carve out that niche, and yes, there's a place for your passion, and wow, I'm a writer and I'm making my dreams come true (and I hope I don't screw it up).
One thing I would have enjoyed hearing more about were the paths that people took, from dream to passion to reality—because the ongoing journey, I find, always seems to involve a lot of luck and fate (along with preparation, and stubbornness, and refusal to be denied)—which is inspirational to me, and a particular kind of fuel-injector for having faith (in oneself, and mystery).
There was a video presentation of a previous TED speech—Elizabeth Gilbert, discussing artists and depression, and genius—that I found particularly interesting. It's worth a listen, and I've embedded it below.
Pictures: Hung Huang, the "Oprah" of China, discussing her magazine—and Ines Brunn, doing some spectacular stuff with her bike. On a very small stage.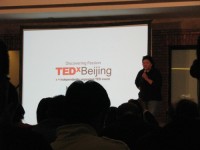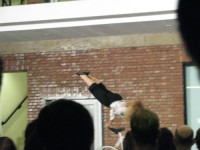 Here are some other photos from the event—much, much, better than mine (plus, this one of the audience)—as well as some related Twitters.