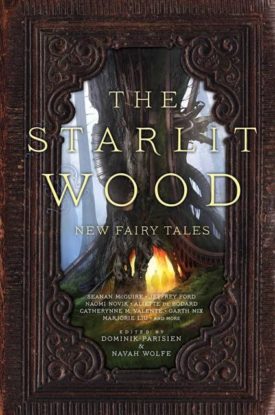 The Starlit Wood: New Fairy Tales

RELEASE DATE: October 18, 2016
PUBLISHER: Berkley
An all-new anthology of cross-genre fairy tale retellings, featuring an all-star lineup of award-winning and critically acclaimed writers.
Once upon a time. It's how so many of our most beloved stories start.
Fairy tales have dominated our cultural imagination for centuries. From the Brothers Grimm to the Countess d'Aulnoy, from Charles Perrault to Hans Christian Anderson, storytellers have crafted all sorts of tales that have always found a place in our hearts.
Now a new generation of storytellers have taken up the mantle that the masters created and shaped their stories into something startling and electrifying.
Packed with award-winning authors, this anthology explores an array of fairy tales in startling and innovative ways, in genres and settings both traditional and unusual, including science fiction, western, and post-apocalyptic as well as traditional fantasy and contemporary horror.
From the woods to the stars, The Starlit Wood: New Fairy Tales takes readers on a journey at once unexpected and familiar, as a diverse group of writers explore some of our most beloved tales in new ways across genres and styles.