Hey guys, if you have a chance, check out this fun interview I did at THAT'S SHANGHAI, a great online and print magazine that dishes on the latest goings-on in Shanghai, China. It's part of their wonderful "Why I Write" series.
Allen: 1) I'm currently working on scripting a comic and I'm having difficulty, particularly on writing females. I applaud those who don't make female characters seem like cheap throwaways in comics but what suggestion can you give in terms of finding the voice of a character in writing? 2) Your collaboration with Daniel Acuna has changed the way he approaches his storytelling in panels. I don't know if you have a factor but I was curious as to how you lay out your script for artists. 3) There are interviews I have read with comic writers who discussed about music as one factor in aiding them when writing. Do you find that the music helps you when it comes to writing scripts?
1. Well, this is an interesting question. And the best answer I can give is that you shouldn't let yourself get hung up on gender. People first, right? Women aren't from Venus, Men aren't from Mars. If you can write an interesting man, you can write an interesting woman. Which isn't to say that women and men are the same, because they aren't…but still, hearts are hearts, and at the end of the day, people want the same things. As for finding a character's voice…that's a hard one, and there's no right answer. I'd even venture to say that every writer takes a different path to learning how to discover the voices of characters, which isn't the same as translating those voices to the page. All I can say is that you should read—read A LOT. And then write a lot. Don't just write comics—write prose, as well. Experiment. Take risks. Don't stay in your comfort zone. If you have a character who is giving you trouble, then place him or her in a truly wild situation—like a bear trap, or lost naked in Alaska! And see what kind of voice comes out of them. It shouldn't be boring, that's for sure.
2. I'm not certain that working with me has changed the way Daniel Acuna approaches his panels—he's an extraordinary talent. But here's a sample page of script (not the whole page, just the first four panels) from Black Widow #1, followed by the actual finished product. I couldn't be more pleased. He made it better than what I imagined.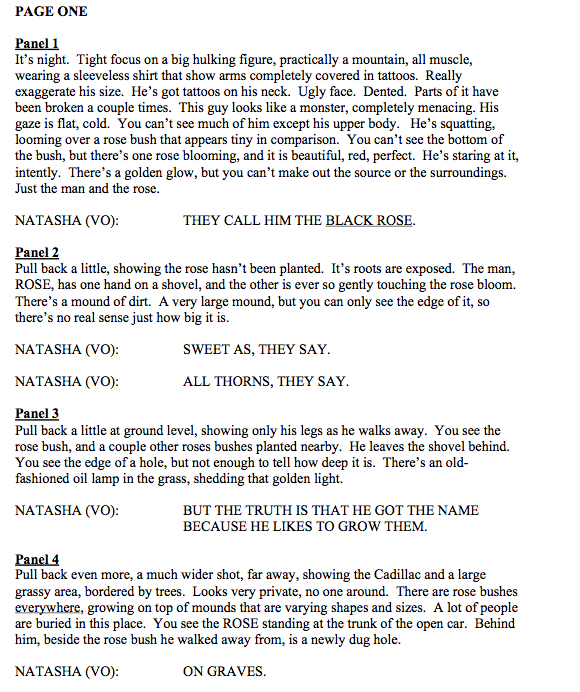 3. I'm always listening to music as I write—and I listen to everything! Here's a sample of my current favorite mix: