So, I was going to do a small giveaway of NYX: No Way Home, as the trade paperback is shipping from Amazon—and while I was over at the website, I noticed that some used copies were already being sold. For $8,181.61.
In case you don't believe me:
Yes, that's right. For the price of a luxury getaway to some exotic locale—or a car—or the down payment on a house—you, too, can be the lucky owner of a USED copy of NYX: No Way Home!***
Or, you can just leave your name in the comments and on Saturday evening I'll pick a winner out of the hat, and give one away. Maybe I'll dip the book first in a vat of liquid gold and then sprinkle diamonds on top. Just because I love you all so much.
P.S. NYX, of course, would be nothing, nothing, nothing, without the incredible art of Kalman Andrasofzky, who created this gorgeous illustration for THE FIRE KING. He talks about it at his blog. Stayed tuned for more of his lovely interpretations.
***Unless, of course, this price is taking future inflation into account, in which case we're all screwed.
UPDATED: Overnight, one of the booksellers got wise and INCREASED THE PRICE TO $9,662.24.***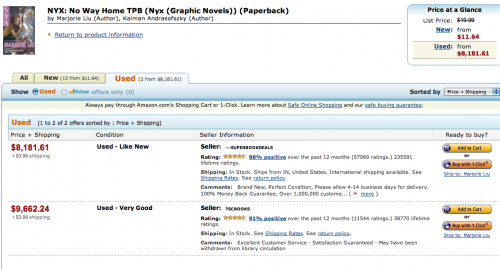 ***Yes, I'm sure this is all the result of a typo or some computer error, but I still think it's funny.