Saturday, May 16, 2009
Men on ropes! Protests! Blood! Suitcases!
Without fail, all the interesting stuff happens on the day I leave China.
So, I'm lounging in bed this morning, contemplating the past six weeks, when I hear some rather loud shouts that sound disturbingly close to my window. I think, "That can't be right," and jump out of bed only to discover that yes, once again, there are men swinging from ropes outside my window, hanging yet more banners protesting the construction going on next door.
Apparently, there was a resident meeting last night. Word is they know the construction won't stop, but now they want a height limit on the new buildings—perhaps five stories, and no more. Like that's gonna happen. But this was the result of their evening pow-wow (click to enlarge):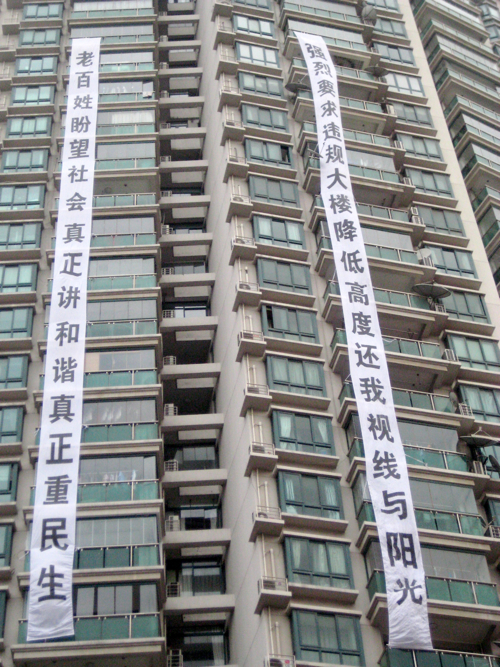 The translation of the two parallel banners goes like this: WE STRONGLY REQUEST THE ILLEGAL BUILDING LOWER ITS HEIGHT AND RETURN OUR VIEW AND SUNLIGHT and THE PEOPLE EXPECT SOCIETY TO TALK ABOUT HARMONY AND RESPECT THE PEOPLE'S WELFARE.
But the banner that has one word written in red? Oh, man. Strong language. Fighting words: THE RESIDENTS OF THIS APARTMENT COMPLEX ARE WILLING TO EXACT A BLOOD PRICE TO PROTECT OUR HOME.
Watch out!
Oh, and as we were coming home from Starbucks, we crossed paths with the men who had been hanging the banners. They were walking out of our apartment building with all their equipment (i.e. ropes) and when asked whether they were scared of heights, they gave us incredulous looks, and were like: "Dude, whatever." Which is more or less what I expected.
In other news, I'm packed. For those who have an interest in my packing (and you know who you are), I did have to increase my suitcase size to accommodate the purchase of three pairs of shoes, two dresses, and one denim jacket. I'm still using a carry-on, but the brown bag on the left is what I came over with, and the blue bag is what I'll be using on the way home. It's quite heavy, I admit, but that's what you get for being a dense packer.
I'm going to miss China. This is a good place to get lost and unlearn some of the habits that, as a writer, need to be shaken up every now and then. Plus, it's just flat-out fun. I'll probably be twittering throughout the morning and at the airport, but the next time I really blog from China will likely be in the late summer or fall.
Bye, Shanghai!
Mistress, oh my mistress…
I remember that when my family lived in Taiwan in the late Nineties, we would take nice long drives up into the mountains. You'd see all kinds of things up there. Tea plantations, aboriginal villages, poinsettia trees the size of small oaks blooming crimson at the side of the road…soldiers armed with machine guns searching truckers and cars for drugs. You know, stuff.
We also once saw a billboard advertising the arranged marriages of Mainland Chinese women.
Yes, women just up and ready for marriage. As in, women to be sold into marriage (via brokers). Women from certain small Chinese villages, forced to line up in a row and present themselves to traveling groups of Taiwanese men, who would interview and choose girls to take home with them (presumably the visa process was expedited as part of the service fee). Because Mainland Chinese women—so it was said—were prettier, not too educated, and would 'take care of their men.'
Now, this was not seen as human trafficking, but mere matchmaking. And the guys who would do this presumably had money and could take care of their women, so it was a win-win situation, right? I mean, no one forced these girls to participate. Right?
Right. I feel so much better.
Now, this kind of thing happens all over the world. But since I'm in China, let's talk about China—and the idea of women as commodities, women as objects to be shown off like prized race horses, this culture (and economy) of mistresses and concubines.
The women I mentioned at the beginning of the post don't fit into the category of a mistress. Those were women meant for marriage—supposedly. But the distinction is important over here. For some of these fat cat older men, wives are meant to fulfill familial obligations. You have a mistress, on the other hand, because it looks good. It means you're rich enough to support another woman. If you can afford more than one mistress, then my God, you're a stud. You're living the dream.
Again, I'm speaking in generalities. But I'm not wrong, either. And it's not just men keeping lovers on the side. Married women also find companions—love companions—because often they haven't married for love (again, as I discussed before, there is a sense sometimes of marriage as an obligation, rather than choice), and so they seek affection elsewhere (sometimes while married to husbands who are hundreds, if not thousands, of miles away).
But women with 'misters', I'd say, are far less accepted than the alternative. And it's a little different from the situation I'm getting at, which is overwhelmingly macho and part of an industry filled with young women whose job it is to please men and make them look like hot stuff. Seriously. These dudes compete. And oftentimes the most highly sought after women are incredibly smart and capable, beautiful (oh, I have seen some breathtaking girls catering to men old enough to be their grandfathers), and college educated. Because this is a job, sometimes a lucrative one, and with recent graduates in China fighting tooth and nail for work, for some this seems like a good and acceptable option (that, or you can advertise as a potential housewife).
"Outside top flight colleges all over China expensive cars are parking by the campus gates. It seems like everyone is waiting to pick someone up. Some, of course, are parents who've come to see their children, some are friends, but some are middle aged business men waiting to collect their mistress. These girls, most of whom are from ordinary backgrounds, use the system of older men picking up a college girl to use at the weekend as his mistress as a means to gain money and other luxuries that would otherwise be way beyond their reach…A wealthy male student told reporters that it is becoming more and more popular for older men to want to have a pet college girl of his own. In fact, the student said that several of his father's friends had approached him asking if he could help them find a girl in his year for them to 'make friends' with. He reportedly refused these requests."
Nice, right? This is becoming more common, especially at lower tier schools. Not to mention an actual economy has grown up around these kept women, from housing to luxury items. Most ordinary folks in China aren't shopping for Gucci, Fendi, and Louis Vuitton (and these stores are so common in Shanghai and Beijing, it's almost a joke) but rich dudes who want to buy a present for their mistresses? Bingo. From my perch at the Starbucks in the China World Mall in Beijing, I have seen parades of gloriously beautiful and well-groomed young, young women, floating on impossibly perfect legs into these stores, secure upon the arms of old men who it would be kind to call gross. And trust me, they were not fathers and daughters, or grandfathers and granddaughters, or nieces, or whatever—but something else entirely, and very intimate.
Is there love involved? Sure, sometimes. I'm not that mean. I'm not even jaded (well, maybe a little when it comes to this situation). But it confounds me, I admit. I know all the reasons, I know for some girls it's a better option than the alternative, I know and I know. You gotta do what you gotta do. Money and survival don't come cheap. I don't question that.
But these guys who take pride in keeping women on the side? And the acceptance by many that this behavior isn't somehow problematic? Wow. But not much of a surprise, either. The fast growth of wealth in China, combined with men who are thinking caveman-with-their-you-know-whats (not to mention the historical context of concubines—which my own great-grandfather had three of in addition to his wife) has created this industry. Which, as an outside chick looking in, isn't something to be proud of, despite the chest beating I see every night when I take a walk around areas where businessmen like to hang it loose after hours.

There have been consequences, as seen in corruption charges being brought against men who often have to get dirty in order to maintain their women. Here's another article about such a scandal, with this classic quote:
The party has become so alarmed at the connection between corruption and mistresses that last year it announced that all officials would have to register their lovers. Internet sites have begun to keep league tables of the cases, including a planning official with 140 mistresses and a textile industry supervisor was found to possess diaries containing hair belonging to 235 different women.
Good times.
Thursday, May 14, 2009
On being single in China…
Just the other day I had a very interesting conversation about the dating/marriage scene in China, but as I said then, I don't even know how to blog about the subject. It's complicated. It's probably controversial. And I'll likely be talking about it, in small bits and pieces, over the next several weeks. Because it's also fascinating. I mean, I write romance novels, right? I do have some interest in the topic of interpersonal relationships and how culture affects that sort of thing.
First off, in case some visitors to this blog are totally clueless, let me state for the record that yes, I am a girl.
And, according to this article, in China I would be considered a leftover woman (check out the attached survey, which is hilarious):
Leftover women: A group of highly educated, high income, older-aged young women [28-35-years old] who cannot obtain their ideal fates [marriages]. "Leftover women" is a new name for those those older young women, who can also be called "3S women": Single, Seventies (most were born in the 70s), Stuck.
Or, as this article articulates:
'Leftover people' are considered a social problem in the city of Nanjing and local government is trying to lower people's standards of choosing a spouse and to help those singles find their companions.
Now, I ain't nobody's leftovers, but the term—that it even exists—and that it's seen as an negative (probably to everyone but these independent women), is interesting. Actually, more than interesting. I see this phenomenon in the United States, though no one has given a name to it (or if they have, I haven't been paying attention). In China (and amongst the Amish, but that's another story), when people ask my age and discover that I'm unmarried, the responses I receive are unanimously tragic. I am, apparently, an old maid, a piece of beef jerky, a chicken past its prime. The goose is cooked.
In China, however, you can't hardly disassociate dating from marriage. Traditionally (and this is changing, of course, and also depends on where you are; as in, the city versus the countryside) girls marry their first boyfriends. That's tough—depending on your point of view—but either way, talk about pressure to get things right, at least from a girl's perspective! Guys don't have to worry as much. The double-standard lives on, my peeps (but writing about the pervasive acceptance of mistresses in China is another post entirely).
Yet this is all highly ironic, given that folks are always going on—legitimately—about the skewed male-female ratio in China's population. There are more men than women in this country. About 40 million of these dudes could end up as bachelors for their entire lives. Personally, I don't find this entirely tragic, but the point is—smart, well-educated women should be a prime catch.
And they're not.
Now, first off, in rural villages there will be more men than women anyway, because most girls are sent out to work in the cities before finishing school—and they're usually gone for quite some time, or just never return home. There's more money and freedom when you're on your own, even if you are obligated to send most of your paycheck back to the relatives (I've known many, many, girls who paid for the education of younger brothers this way, at the sacrifice of their own aspirations). But after you reach a certain age—no later than your early twenties—you are expected to get hitched, one way or another, and have a kid. You don't have to stay with your child—in fact, most people aren't expected to, given that job opportunities are so limited in rural areas—but you must produce one. This is a big deal. Pressure is immense.
But first you have to get married.
My grandfather's sister, a lovely wisp of a woman who can hardly stand anymore, literally leapt to her feet in outrage and berated my dad for not making "arrangements" for me years and years ago. In her opinion (and in the opinion of the Amish—but again, that's another story), he was neglecting his duty by not making certain that I was married off and producing an heir to carry on those sparkling Liu genes. My dad was like, "Whatever," which nearly got him beat over the head with a broom. Until another member of the family reminded my elderly relative that I was educated. And that took the fight right out of her. Because, according to her—and a lot of traditional types in China—no man wants a woman who's smarter than him. Of course, I'm not certain she realized what she was implying: that, following her logic, a lot of really dumb men must be looking for wives and girlfriends.
Anyway. There's one issue, presented for your discussion, about the dating/marriage scene in China. Trust me when I say that it's the least controversial of them all.
Wednesday, May 13, 2009
The Songjiang Mosque
When speaking of religion in China—or rather, listening to others outside China speak of religion in China—the erroneous impression one often receives is that a) there is no religion in China, b) there has never been religion in China, or c) you're not permitted to be religious in China. All of which is inaccurate, except for the fact that after 1949, especially during the Cultural Revolution, religious activity was actively repressed, religious figures were persecuted, and all hell broke loose (not just around religion, but in every facet of society…several of my own relatives committed suicide rather than subject themselves to mistreatment at the hands of the fanatical mob).
I'm not contradicting myself. Before 1949 or so, China was a place where religious diversity was not just tolerated, it was protected. Obviously, times changed, but China is currently entering a period of religious revival. Kind of.
At any rate, all of that is a lead-in to a remarkable religious treasure in Songjiang, which is a nice district about an hour outside downtown Shanghai. Songjiang is a very old city in China, and was, once upon a time, the location of the governorship of what is currently now Shanghai. There, tucked away off a busy shopping district, is one of the oldest Islamic buildings in China—a mosque that dates back to the Yuan Dynasty (around 1271-1368).
The Yuan Dynasty was dominated by the ruling Mongolian presence, and besides advances in literature and science, the development of foreign trade was huge. The Silk Road flourished, and trade relations were established far beyond Chinese borders. Many important ruling officials were brought in from Central Asia, including Songjiang's governor—who was Muslim. Hence, the building of the Songjiang Mosque.
You can see from the photographs below (click to enlarge) that the mosque combines both Arab and Chinese architectural styles. It is still used by local Muslims, though when we were there it was quite empty. There was an old cemetery where the headstones were written in both Chinese and Arabic, though it seemed disrespectful to take photographs of the surprisingly small tombs. And that tree you can see behind the wall? Four hundred years old.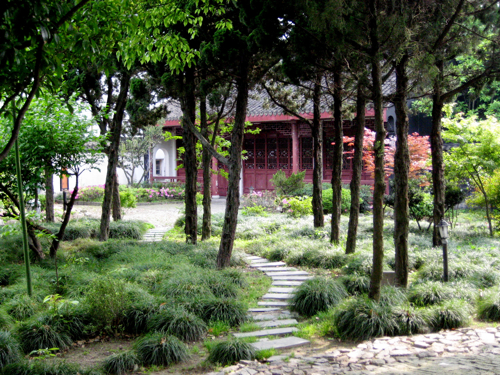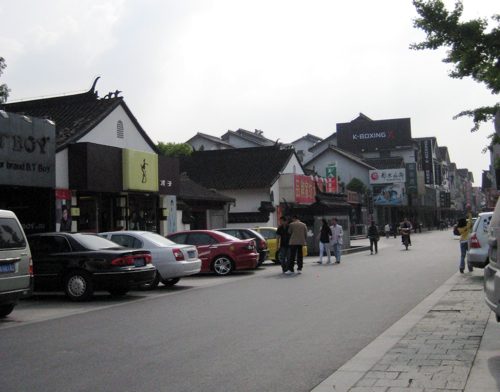 This is the street where you can find the entrance to the mosque. You would never know it's there, if you weren't paying attention—and, indeed, many locals aren't even aware that it exists. If you decide to go, you may have trouble finding the place, but it's well worth the visit.
Live a little—or maybe a lot.
I'll be blogging more this evening—possibly about ancient mosques or dating in China (two highly divergent topics, to be sure)—but in the meantime, here's a fantastic bit from Neil Gaiman about entitlement issues, readers, and authors, which I think should probably be called: George R.R. Martin is not your bitch.
Or, as Mr. Gaiman goes on to say:
"This is a useful thing to know, perhaps a useful thing to point out when you find yourself thinking that possibly George is, indeed, your bitch, and should be out there typing what you want to read right now.
People are not machines. Writers and artists aren't machines."
I've spent the past year, at times, feeling a bit like a machine. Always on deadline, always struggling to catch up. Trying not to stress out, knowing that writing should not be painful, and that—wonder of all wonders, it should feel like the privilege that it is. And it did feel like a privilege for most of the time, but when it did not—when it became more than just work, and all-consuming (because as a writer, it's difficult to step away, and take a breather)—I questioned what I was doing with my life, even though I did not want to stop.
I'm finally, though—for the most part—caught up, and have been reminded over the past six weeks that I am about 100% more productive when I'm relaxed and having a good time. You would think that I would remember that, but alas, when deadlines roar, I tend to forget the basics. I forget a lot of things, including my sense of humor. But not anymore. I've been reading, sight-seeing, enjoying nice long dinners with family and friends—and putting in decent hours of work while I'm at it. Deadlines must be met, because this is a business and a great job, but I have a remarkable life, a beautiful life, and every day I'm happy to wake up. And I'm going to enjoy it all. The books will be better for it.